SBP-series Battery Protector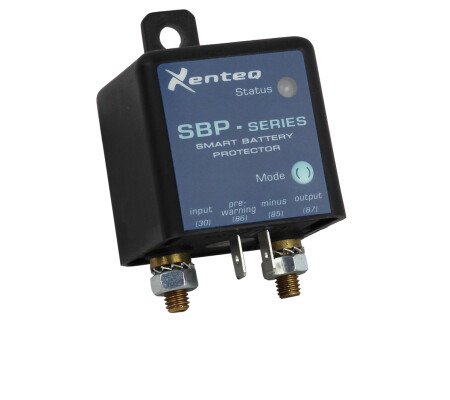 Batteries that are regularly discharged too deeply have a shorter life. Due to the deeper discharge, sulphation takes place, which ultimately ensures that the battery will fail prematurely. With a starter battery, starting problems can arise if the voltage level is too low. This battery protector is the perfect solution to solve these problems. The battery monitor automatically switches off the power supply to the consumer(s) when the voltage level of the battery is getting too low. The switch-off voltage is adjustable so you can determine yourself when the power supply should be switched off. This makes it possible to determine the best cut-off voltage for each situation, or type of battery. With a push button you can easily choose from 6 switch-off levels. In addition, this battery protector has the option of giving a pre-warning. An acoustic (buzzer) of optical (light) signal can be generated to give a warning if the battery threatens to reach the set cut-off voltage.
The power supply is automatically restored when the battery has increased sufficiently in voltage and has reached the re-connect level.
The battery monitor is suitable for both 12Vdc and 24Vdc systems. The correct system voltage will be detected automatically.