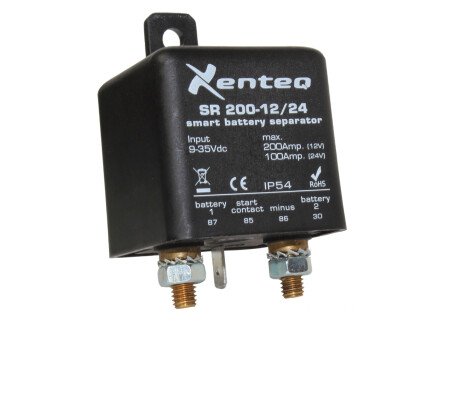 Parallel connection
This separation relay is an ideal solution, if you want to charge two batteries (or groups) simultaneously by means of a battery alternator, battery charger, solar panels, etc. Usually applicable to a starter battery and a service battery, such as in motorhomes, boats, service vehicles, etc. The two batteries are placed in parallel under certain voltage conditions. The relay will only switch on if the measured voltage of one of the two batteries is sufficiently high. However, if the joint voltage drops to the lower limit, the relay will break the connection again. This battery guard function means that the batteries cannot discharge each other.
The difference with a battery isolator is that with an seperation relay the batteries are placed in parallel under certain conditions. With a battery isolator, the batteries always remain separated from each other.  The advantage of an relay is that the loss across the contacts is virtually nil.

Start assist
In addition, the relay also has an external signal for the possibility of the so-called 'start assist' function. By means of this signal, you can manually choose to put the two batteries in parallel for a short time. This way, in an emergency, the second battery can still be used to start the vehicle. 
Auto-detect system voltage
This relay is suitable for 12Vdc and 24Vdc systems. It will automatically select the correct system voltage. Of course, the two batteries must have the same nominal voltage. 


Downloads
ENG - Techn. specs SR-series V2 ORG.pdf
> Download